In one of my favourite photos of my grandmother, Helen Price, she is relaxing in a little boat moored in the rushes along the shore of a lake somewhere in Ontario's cottage country. Almost certainly, it was her soon-to-be husband, Harley Warner, who took the photo.
She's 23 and very stylish in her tie, cardigan, dress with a calf-length skirt, dark stockings and low-heeled boots. On her lap is a mildly thumbed magazine.
With just a little bit of research, it was easy to determine that what she'd been reading in the photo is The Red Book Magazine, specifically the August 1923 issue, with a cover illustration by Edna L. Compton.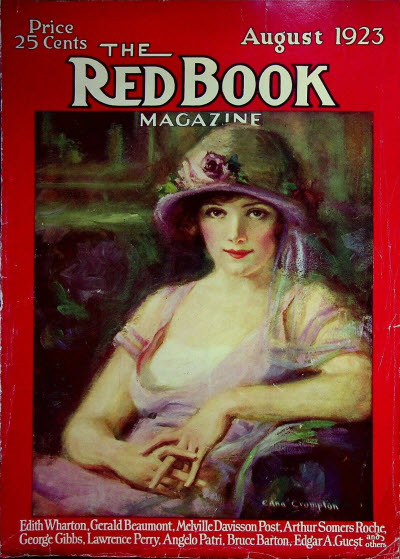 She might have been enjoying one of the more than a dozen pieces of fiction in that month's issue, with mildly salacious titles like Fleshpots by Rita Weiman, or Kiss and Run by Harold Cary.
Or, in a slightly more intellectual vein, she could have been reading the second half of New Year's Day, a two-part short story by Edith Wharton.
August 1923 was the last month of Helen's life as a single woman. She and Harley would be married on September 22 of that year.
---
* The source for the magazine cover and information about its illustrator and contents is The General Fiction Magazine Index maintained online by William G. Contento.